Military Decals
JEEP STAR DECAL KIT
US ARMY USMC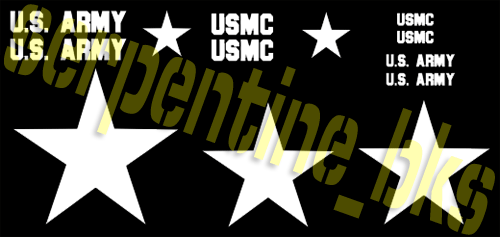 Decals shown on black background to show white vinyl
(Yellow watermark is NOT part of your decal kit)
Description:
Die cut vinyl decal set for restoration of US Army Jeeps. Kit includes 13 decals:
This kit includes the following decals
(all measurements are approx.):
Size:
20" x 20" Star(x1)
16" x 16" Star(x2)
6" x 6" Star(x2)
7" x 5.75" USMC (x2)
13.5" x 5.75" U.S. ARMY (x2)
4" x 1.5" USMC (x2)
8" x 1.5" U.S. ARMY (x2)
Ready to be applied to any smooth surface including:
glass, metal, plastic, etc.
Comes with easy instructions to help you apply the vinyl decal.
Price: $30.50 FREE SHIPPING
(USA BUYERS ONLY - Please no other countries; all others will be refunded)
Decal cut in your choice of vinyl color:

WHITE

BLACK

SILVER

BLUE

GREEN

RED

ORANGE

YELLOW

TERRA COTTA
US ARMY Star Decal Kit

White vinyl

Black vinyl

Silver vinyl

Blue vinyl

Green vinyl

Red vinyl

Orange vinyl

Yellow vinyl

Terra Cotta vinyl