Other / Misc Decals
Japanese Rising Sun Style Decal
Choice of multiple sizes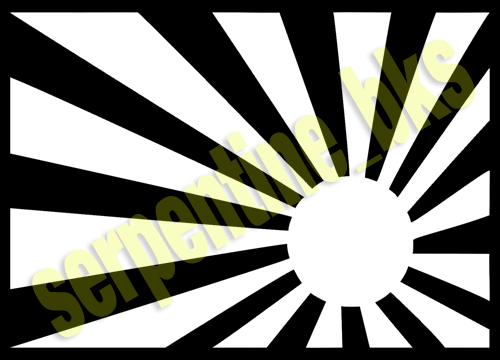 Decal shown on black background to show white vinyl
Disregard watermark, that is not part of the decal.
Description:
Die cut vinyl store window decal featuring a vintage style rising sun Japanese flag decal.
Ready to be applied to any smooth surface including:
glass, metal, plastic, etc.
Comes with easy instructions to help you apply the vinyl decal.
Sizes available:
Sizes Approx. -
4"x2.5"
5"x3.5"
7"x4"
8"x5"
9"x5.5"
10"x6"
12"x7"
13"x8"
Price: From $4.00 to $14.00
Shipping: Free (US buyers only)
If you are not from the US please do not buy, we will have to refund your payment otherwise.
Decal cut in your choice of vinyl color:

WHITE

BLACK

SILVER

BLUE

GREEN

RED

ORANGE

YELLOW

TERRA COTTA
4"x2.5" - Rising Sun Japanese Flag Decal

White vinyl

Black vinyl

Silver vinyl

Blue vinyl

Green vinyl

Red vinyl

Orange vinyl

Yellow vinyl

Terra Cotta vinyl

5"x3.5" - Rising Sun Japanese Flag Decal

White vinyl

Black vinyl

Silver vinyl

Blue vinyl

Green vinyl

Red vinyl

Orange vinyl

Yellow vinyl

Terra Cotta vinyl

7"x4" - Rising Sun Japanese Flag Decal

White vinyl

Black vinyl

Silver vinyl

Blue vinyl

Green vinyl

Red vinyl

Orange vinyl

Yellow vinyl

Terra Cotta vinyl

8"x5" - Rising Sun Japanese Flag Decal

White vinyl

Black vinyl

Silver vinyl

Blue vinyl

Green vinyl

Red vinyl

Orange vinyl

Yellow vinyl

Terra Cotta vinyl

9"x5.5" - Rising Sun Japanese Flag Decal

White vinyl

Black vinyl

Silver vinyl

Blue vinyl

Green vinyl

Red vinyl

Orange vinyl

Yellow vinyl

Terra Cotta vinyl

10"x6" - Rising Sun Japanese Flag Decal

White vinyl

Black vinyl

Silver vinyl

Blue vinyl

Green vinyl

Red vinyl

Orange vinyl

Yellow vinyl

Terra Cotta vinyl

12"x7" - Rising Sun Japanese Flag Decal

White vinyl

Black vinyl

Silver vinyl

Blue vinyl

Green vinyl

Red vinyl

Orange vinyl

Yellow vinyl

Terra Cotta vinyl

13"x8" - Rising Sun Japanese Flag Decal

White vinyl

Black vinyl

Silver vinyl

Blue vinyl

Green vinyl

Red vinyl

Orange vinyl

Yellow vinyl

Terra Cotta vinyl