Vinyl Families Decals
Flip Flop Feet Family Decals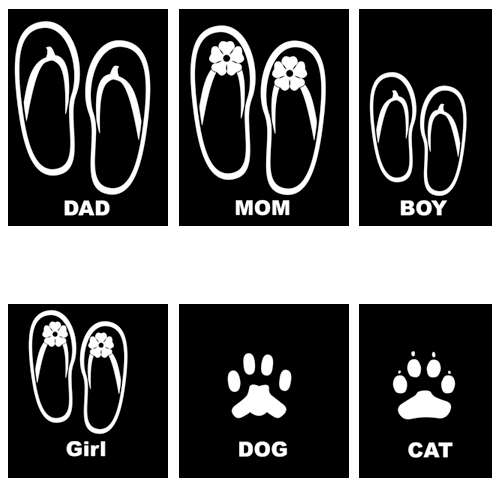 Decals shown on black background to show white vinyl
Description:
Die cut vinyl window decal featuring your choice of flip flop feet to represent each member of your family. Each pair of flip flop feet are sold separately, so if you need a dad, mom and dog family you would be purchasing 3 sets of flip flop feet.
Ready to be applied to any smooth surface including:
glass, metal, plastic, etc.
Comes with easy instructions to help you apply the vinyl decal.
Size approx.:
DAD = 4.25w x 5.5h
MOM = 4.25w x 5.5h
BOY = 3w x 4h
GIRL = 3w x 4h
DOG = 2w x 2h
CAT = 2w x 2h
Price: $3.50 each + Shipping/Handling
Decal cut in your choice of vinyl color:

WHITE

BLACK

SILVER

BLUE

GREEN

RED

ORANGE

YELLOW

TERRA COTTA
Flip Flop Feet Family Decal - Type DAD

White vinyl

Black vinyl

Silver vinyl

Blue vinyl

Green vinyl

Red vinyl

Orange vinyl

Yellow vinyl

Terra Cotta vinyl

Flip Flop Feet Family Decal - Type MOM

White vinyl

Black vinyl

Silver vinyl

Blue vinyl

Green vinyl

Red vinyl

Orange vinyl

Yellow vinyl

Terra Cotta vinyl

Flip Flop Feet Family Decal - Type BOY

White vinyl

Black vinyl

Silver vinyl

Blue vinyl

Green vinyl

Red vinyl

Orange vinyl

Yellow vinyl

Terra Cotta vinyl

Flip Flop Feet Family Decal - Type GIRL

White vinyl

Black vinyl

Silver vinyl

Blue vinyl

Green vinyl

Red vinyl

Orange vinyl

Yellow vinyl

Terra Cotta vinyl

Flip Flop Feet Family Decal - Type DOG

White vinyl

Black vinyl

Silver vinyl

Blue vinyl

Green vinyl

Red vinyl

Orange vinyl

Yellow vinyl

Terra Cotta vinyl

Flip Flop Feet Family Decal - Type CAT

White vinyl

Black vinyl

Silver vinyl

Blue vinyl

Green vinyl

Red vinyl

Orange vinyl

Yellow vinyl

Terra Cotta vinyl