Business Decals
Push & Pull Decal Set
Choice of 4 different Styles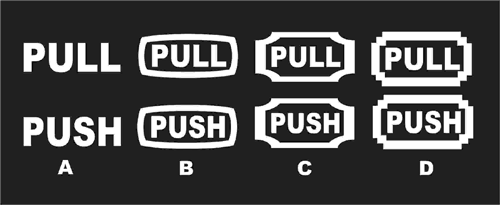 Decals shown on black background to show white vinyl
Description:
One die cut vinyl store window decal featuring Push and one featuring Pull in bold lettering. Your choice of which of the 4 available styles.
Ready to be applied to any smooth surface including:
glass, metal, plastic, etc.
Comes with easy instructions to help you apply the vinyl decal.
Size:
Approx. - 5in W x 1.5in H each
Price: $1.99 + Shipping/Handling
Decal cut in your choice of vinyl color:

WHITE

BLACK

SILVER

BLUE

GREEN

RED

ORANGE

YELLOW

TERRA COTTA
STYLE A - Push & Pull Decal Set

White vinyl

Black vinyl

Silver vinyl

Blue vinyl

Green vinyl

Red vinyl

Orange vinyl

Yellow vinyl

Terra Cotta vinyl

STYLE B - Push & Pull Decal Set

White vinyl

Black vinyl

Silver vinyl

Blue vinyl

Green vinyl

Red vinyl

Orange vinyl

Yellow vinyl

Terra Cotta vinyl

STYLE C - Push & Pull Decal Set

White vinyl

Black vinyl

Silver vinyl

Blue vinyl

Green vinyl

Red vinyl

Orange vinyl

Yellow vinyl

Terra Cotta vinyl

STYLE D - Push & Pull Decal Set

White vinyl

Black vinyl

Silver vinyl

Blue vinyl

Green vinyl

Red vinyl

Orange vinyl

Yellow vinyl

Terra Cotta vinyl