Army Star Decals
Color Skull JEEP HOOD MILITARY STAR DECAL KIT Wrangler Patriot Renegade Cherokee
Full Color Printed Decal Styles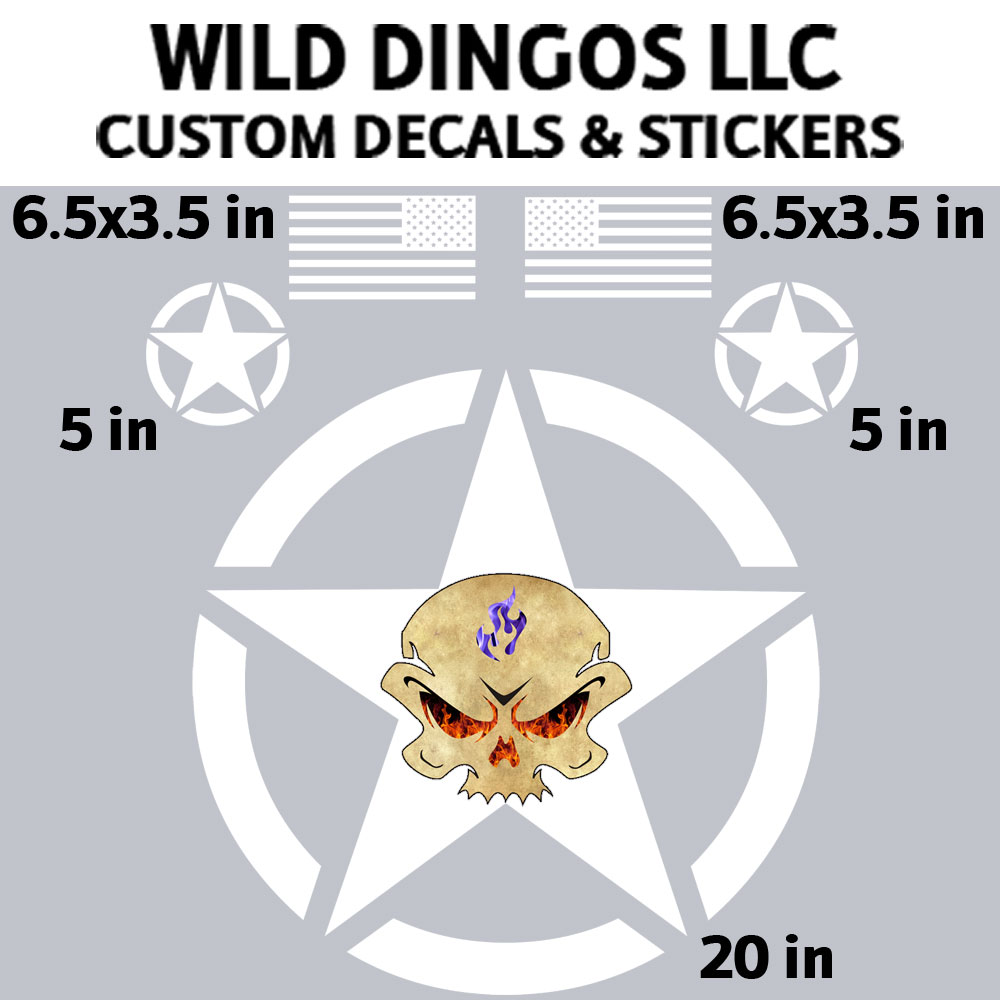 (Printed on White Vinyl Shown Above)

Description:

(G0011) - Print Style 2 thru 9
The Color Skull Jeep Hood Military Star Decal Kit consists of Five high quality Die-Cut Vinyl Decals. One for the front Hood and four for the side panels and or tailgate. This set comes with both right and left decals.
You choose one of 9 printed Skull Styles listed in the drop down selection above applied to one set of Jeep Military Star Die-cut decals (5 decals) which can be utilized indoors or outdoors. Decals can be applied to your Vehicle, Golf Cart, Race Car, ATV, UTV, RC Truck, Boat, Snowmobile, Motorcycle, Side by Side etc. etc. Ready to be applied to almost any clean smooth Non-Porous Surface including: glass, metal, plastic, etc. Please check your vehicle for proper sizing. Each decal will be packaged separately to ease installation.
Product Size description:
1 ea – 20 inch Circled Star with printed Skull
2 ea – 5 inch Circled Star
2 ea – 6.5x3.5 inch US Flag
And a simple to follow instruction sheet on how to apply the Decals.
These are permanent adhesive decals and are removable, but not reusable or repositionable after applied.
Your graphics color may vary slightly from what you see depending on your monitor setting.
WHAT YOUR DECAL IS MADE OF:
First your decals are custom made here in the "USA". We have been in the graphics design business since 2002 and have produced thousands of decals over the years.
We start with top rated Oracal 651 Vinyl Film to print the decal on which is Outdoor Rated for up to 6 years and will not fade, run or bleed under normal usage. The Vinyl Thickness is 2.5 mil.
Then, our decal printing process uses state of the art eco-friendly thermal printing technology from Summa. Which basically uses outdoor-durable CMYK process and/or spot color resin ribbons which are baked onto the vinyl film. The design on the decal is water, weather and UV resistant. (Unlike other printing processes that use Latex ink which are then just air dried and are not outdoor-durable without adding laminates to their process).

Lastly, to ease installation we apply a covering of RTape Clear Choice AT60 - Clear Low-Tack Application Transfer Tape which assists you in placement of your decal allowing for a professional application. Unlike Standard paper application tape which is difficult to see though in the placement of the decal.
Decal Kit Contains:
Product Size description:
1 ea – 20 inch Circled Star with printed Skull
2 ea – 5 inch Circled Star
2 ea – 6.5x3.5 inch US Flag
Price:
$30.99 each
Plus shipping/handling. WA state buyers are subject to state sales tax.
Skull JEEP HOOD MILITARY STAR DECAL KIT

-

STYLE 2

G0011 - STYLE 2
Skull JEEP HOOD MILITARY STAR DECAL KIT

-

STYLE 3

G0011 - STYLE 3

Skull JEEP HOOD MILITARY STAR DECAL KIT

-

STYLE 4

G0011 - STYLE 4

Skull JEEP HOOD MILITARY STAR DECAL KIT

-

STYLE 5

G0011 - STYLE 5

Skull JEEP HOOD MILITARY STAR DECAL KIT

-

STYLE 6

G0011 - STYLE 6

Skull JEEP HOOD MILITARY STAR DECAL KIT

-

STYLE 7

G0011 - STYLE 7

Skull JEEP HOOD MILITARY STAR DECAL KIT

-

STYLE 8

G0011 - STYLE 8

Skull JEEP HOOD MILITARY STAR DECAL KIT

-

STYLE 9

G0011 - STYLE 9